Casa Verde
Photos from the Web

It is an ancestral house converted to a restaurant which serves baby back ribs that are tender and to-die-for! Also try their Callos. For dessert, indulge in their death by chocolate. Prices are reasonable.
Address: 69 Ranudo Extension in Ramos
Phone: (+63 32) 253 6472
- from USC -

Went there just last December 28, 2007, Friday, after about a quarter of a year of not having been there. The place was packed and we had to wait for our reserved table.

They have maintained the quality and taste of the ribs but sad to say the beef and mushroom bliss I ordered was not. It smelled of uncooked meat and some pieces of beef were still pinkish. My dish was not cooked well. I lost my appetite after seeing runny pink juices oozing from the beef. I just asked for some of the baby back ribs that my hubby ordered just to finish off my rice. The death by chocolate was better, it was not as hard as a rock, like the one we had the last time we visited the place. The death by chocolate they had is composed of ice cream with a chocolate cookie base and covered with hardened chocolate. Yummy! The baked Alaska failed my expectations. The baked Alaska was composed of 3 flavors of ice cream with spongecake as base and covered with a meringue.The ice cream was not that many, maybe around just 3 scoops of it. 1 for each flavor. What made it look big was the meringue that did not look like one. The ice cream was indeed covered but with a runny hastily beaten egg white that did not even reach its hard peak stage. it was slightly torched and NOT baked. Yuck! Eww! It was disgusting, honestly. We just dug for the ice cream and the cake. I was greatly disappointed with the baked Alaska.

this is how it should have looked, but sad to say it did not :(


the meringue here is firm and cooked. which looks very appealing and yummy.

what we had was something like this but was torched a little bit.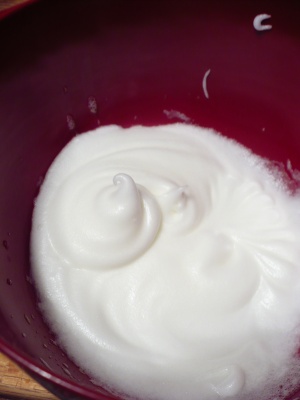 see the difference?!

Food - 3/5 due to my order that was quite unappetizing and the baked Alaska that did not meet my expectation of how a baked Alaska should look and taste like.
Place - 5/5 Accessible and the temperature of the room was just right, not hot and not too cold.
Service - 3.5/5 Our reservation was not listed on the reservation list. I still had to look for the person who I talked to before our reservation was honored. We waited and our friends started arriving and we still did not have our table.
Price - 5/5 very affordable and reasonable.

My overall rating for the night - 3/5